Co-Broker with Website Properties: Online Business Broker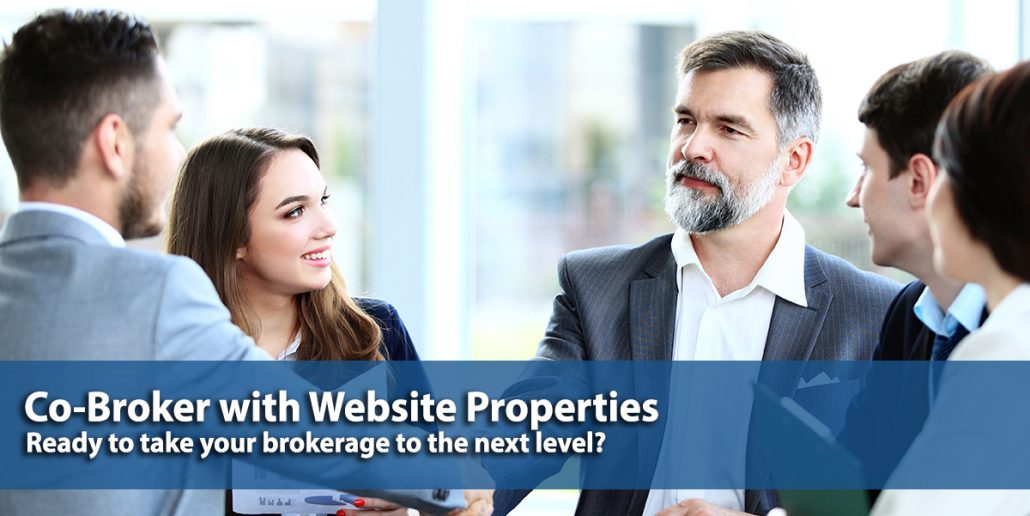 Website Properties has become synonymous with successful website sales, excellent closure rates, and accurate financial valuations. Now your website brokerage can be part of that. Our co-broker program allows you, the website broker, to use our groundbreaking platform and industry-best tools to sell your clients' websites.
Small Business Sales Today
While the numbers for 2019 are far from tabulated, the expectation within the business broker community is that they will exceed those of 2018, which marked the third straight year of increased small business sales in the US. According to BizBuySell's annual sales report, we can see the following information:
Over 10,000 businesses were sold in 2018 alone.
There were 9,919 businesses sold in 2017.
There were 7,842 businesses sold in 2016.
Based on that data, we can clearly see an accelerating trend. More and more business owners are choosing to sell the companies that they have worked hard in order to create. These are almost all profitable businesses, as well. The owners were simply looking for a way to make a successful exit and move on to the next thing.
To dig further into the data found within the report, business valuations saw an increase of 6.3% in 2018, with the creation of $531,653 in revenue for the year. Sold businesses increased their cash flow by 4.3%.
It should also be noted that while over 10,000 business owners decided to sell in 2018, the same number of existing or aspiring business owners decided to buy. The strong economy coupled with a competitive job market has encouraged more people to find success on their own terms by following their entrepreneurial dreams.
While many of those small businesses were brick and mortar based, a significant percentage were digital, such as content websites, eCommerce websites, Amazon FBA storefronts, SaaS services and the like.
The Challenges Facing Brokers Today
As a broker, your primary job is to help your clients sell their websites for the most money possible. It's pretty similar to the job of a real estate agent in the physical world, but with hurdles and challenges unique to the digital realm.
Valuation – One of the most significant challenges you'll face is inaccurately valuing the website a potential client wants to put on the market. A website's value hinges on some specific factors –financials (historical and current trends), traffic, revenue models, vendor, and customer relationships, business niche, brand development/ownership, competitors, growth opportunities, marketplace use, and more all must be considered.
Most of those are intangibles. In the real world, valuing a property is pretty straightforward – you use comps, real estate market trends, property specifics, upgrades, and the like. With a website, things are not that straightforward and even experienced brokers can find it challenging to accurately value online properties.
This is complicated by two additional factors – your client obviously wants as much money as possible, and your own earnings hinge on the amount the site commands on the market.
Offer Memorandum or Prospectus – After taking inventory of the website and going through the valuation process, the next step is to create an offer memorandum. This is a critical document and it must be done correctly. It provides important information about the website that will make or break the case for a potential buyer.
The memorandum will usually include much of the information used in the valuation (at least the positive information) and should be used to help make the case for the sale of the site.
Market It – Your next task is one of the most difficult and time-consuming; marketing the website to potential buyers. This requires a combination of factors, including an in-depth understanding of the audience most likely to be interested in the website, as well as the various tools and channels to use in order to reach that audience and let them know about the virtual property you're offering. Often, an entire marketing team will be required in order to ensure the website is being promoted to the right audience through the right methods.
Show the Website – You'll need to make sure that your clients' websites are ready to be seen by potential buyers, and that means going through the site with a fine-toothed comb. Anything that might reduce the chance of a successful sale should be rectified, from typos in body content to 404 pages, and everything in between.
Negotiating – Depending on the web property in question, you could have several potential buyers. It will be your job to negotiate and obtain offers for your client. This includes creating a Letter of Intent for any negotiated offer that clearly illuminates the terms and the timeline for the sale.
Due Diligence – Once a potential buyer appears, your job is not done. Rather, now comes one of the most difficult aspects: doing your due diligence. It is your responsibility as the website broker to ensure that any potential buyer is not only comfortable purchasing the website/business in question, but has the financial resources to do so, and that they are comfortable with any claims made on the website. This is particularly important in regard to websites that touch on health and wellbeing in any way, shape, or form.
This is really just the beginning. Website brokers face a number of additional challenges, from maintaining membership in relevant industry associations, maintaining client confidentiality, to building your buyer network and ensuring that you do more than simply purchase generic mailing lists.
How Does Website Properties' Program Change the Paradigm?
At Website Properties, we've been centrally involved in the industry for over 20 years. That in-depth experience and expertise have allowed us to become one of the top-rated business brokerages in existence. Over the years, we have built a powerful platform supported by best-of-breed tools and honed our knowledge and capabilities in key areas, including:
Business valuations
Financial valuations
Familiarity with all types of business websites, from e-commerce to Amazon FBA to SaaS to content websites
Most of all, we have built a strong broker base, as well as a buyer Rolodex that numbers in the tens of thousands.
As we've worked in the industry, we have come to appreciate the challenges faced by brokers who do not have access to our platform, tools, knowledge, and team. We want to share those with you. Our co-broker program allows you to tap into our powerful resources, improve your success, and generate better client success.
Understanding the Website Properties Co-Broker Program
At Website Properties, our co-broker program is geared to help you generate better success by empowering you with our tools, processes, and knowledge. It's focused on getting your clients' properties viewed by as many targeted buyers as possible while avoiding generic marketing tactics that do nothing but increase frustration and time on the market. How does it all work? Here's a quick rundown:
Agreement – The first step is to complete your co-brokerage agreement with Website Properties. The process is fast and efficient, ensuring that you can set up the agreement quickly, with a minimum of fuss. Note that our co-broker fee is 25% of the listing broker's fee and we do not make any money if your client's property does not sell. If you don't earn, we don't earn.
Reaching Your Audience – Once the agreement is in place, we market your listings to our tens of thousands of qualified buyers. This involves giving your properties top placement within our listings at the time of publication, as well as marketing your listings to our 18,000-member-strong opt-in list of subscribers. Note that our buyers are not part of a generic list. Rather, they're active, engaged, and interested in properties just like those you have to offer.
Pre-Qualification – As a website broker, how much time do you lose on leads that just don't pan out? If you're anything like the majority of the industry, that's a significant amount of time that could be better spent on more profitable activities.
We take that challenge on ourselves through our pre-qualification process. All new prospects are screened and vetted, while any questions are sent directly to the listing broker for your client to address. We work with you to organize conference calls between leads and can even offer assistance during negotiations and closing.
Ultimately, selling websites is time-consuming and stressful. Our goal is to help you balance that load while ensuring a profitable sale for your clients and a good match between the website/business and the buyer.
The Benefits for Your Clients
It should be clear from the information above how our co-broker program benefits you and your team of brokers. However, what are the benefits your clients will enjoy? How does this arrangement ensure their satisfaction? Actually, there are quite a few key benefits applicable to your clients, including:
Less Time on the Market – With access to our platform, tools, listings, and email list, your clients' websites and business opportunities will spend less time on the market. That's more time your clients can focus on things they want to do, rather than dealing with a lengthy valuation, marketing, and closing process. We help you do more in less time, creating greater satisfaction within your client list and generating more referral business.
Better Offers – Our email list is one of the keys to achieving improved outcomes for your clients. Because all of our contacts are interested and active, your clients' listings are seen by those who are most likely to be eager to take advantage of the business opportunity. This leads to better offers and the potential for your clients to net more on the sale of their website or online business. Of course, there's also the beneficial side effect of bolstering your own commission, helping you earn more and ensuring that your own business thrives.
No Money Left on the Table – As a broker, you're responsible for evaluating the websites you market. And, despite your experience and knowledge, there is always the possibility that something will be overlooked that will ultimately mean money left on the table. That's not good news for you or for your clients. Our co-broker program ensures that you have the latest tools available and our expert help during the valuation process to ensure the highest value offers for your clients' websites.
More Certainty about Pricing – Let's face it, clients often have unrealistic expectations about the value of their websites. That's understandable. They've funneled their efforts into them for months, even years. They've built something they're proud of. However, that doesn't necessarily equate to high market value. Many other factors play a role. Our expertise and experience allow us to provide greater certainty about pricing and thus reduce the chance of a website not selling. More websites sold means a better bottom line for you, but also better word of mouth through satisfied clients.
Conclusion
In the end, you have two choices. You can continue the way you have, going it alone, relying on your own expertise, knowledge, and connections. It sounds admirable in a way – bootstrapping yourself to success without the help of anyone else. However, the truth is that may not be your best – most profitable path.
What more could you achieve if you had access to a better network of active, interested buyers? How much more could you get for your clients with access to our valuation expertise? How much faster could you turn websites, generating more success and more sales, with access to our platform? That is precisely what we offer with our co-broker program.
Ready to take your brokerage to the next level? Get in touch with Website Properties today.