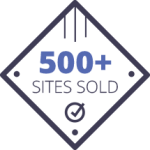 Selling Internet Businesses
A proven sales process developed by Website Properties
Selling your E-Commerce Website, Amazon FBA, SaaS, or any other online business website is likely to be one of the most important decisions you will make. You've spent many years building and nurturing your online business, so we know it's important that you find a website broker who will treat your business with the same professionalism and care you used to build it.
At Website Properties, we are here to ensure that the sale, and subsequent transition, of your online business is handled with care – professionally and competently – every step of the way. Our proven sales process has been at work selling hundreds of websites just like yours. From start to finish, we'll work with you to sell your online business quickly, professionally, hassle-free, and at top market value.
So, if you are looking for an online business website broker who specializes in providing you with the very best in all matters surrounding the sale of your E-Commerce Website, Amazon FBA, SaaS, or other online business, you've come to the right place! We are ready to provide a full-service online business website brokerage with a track record including exceptional expertise to sell almost any kind of internet business.
If you're interested in a free, no-obligation website valuation then please fill out our form, or read on to get an in-depth look at our sales process.
If you have questions, need help, or are just trying to contact one of the staff members at Website Properties, use the information below to reach out in the way that works best for you. At a Glance: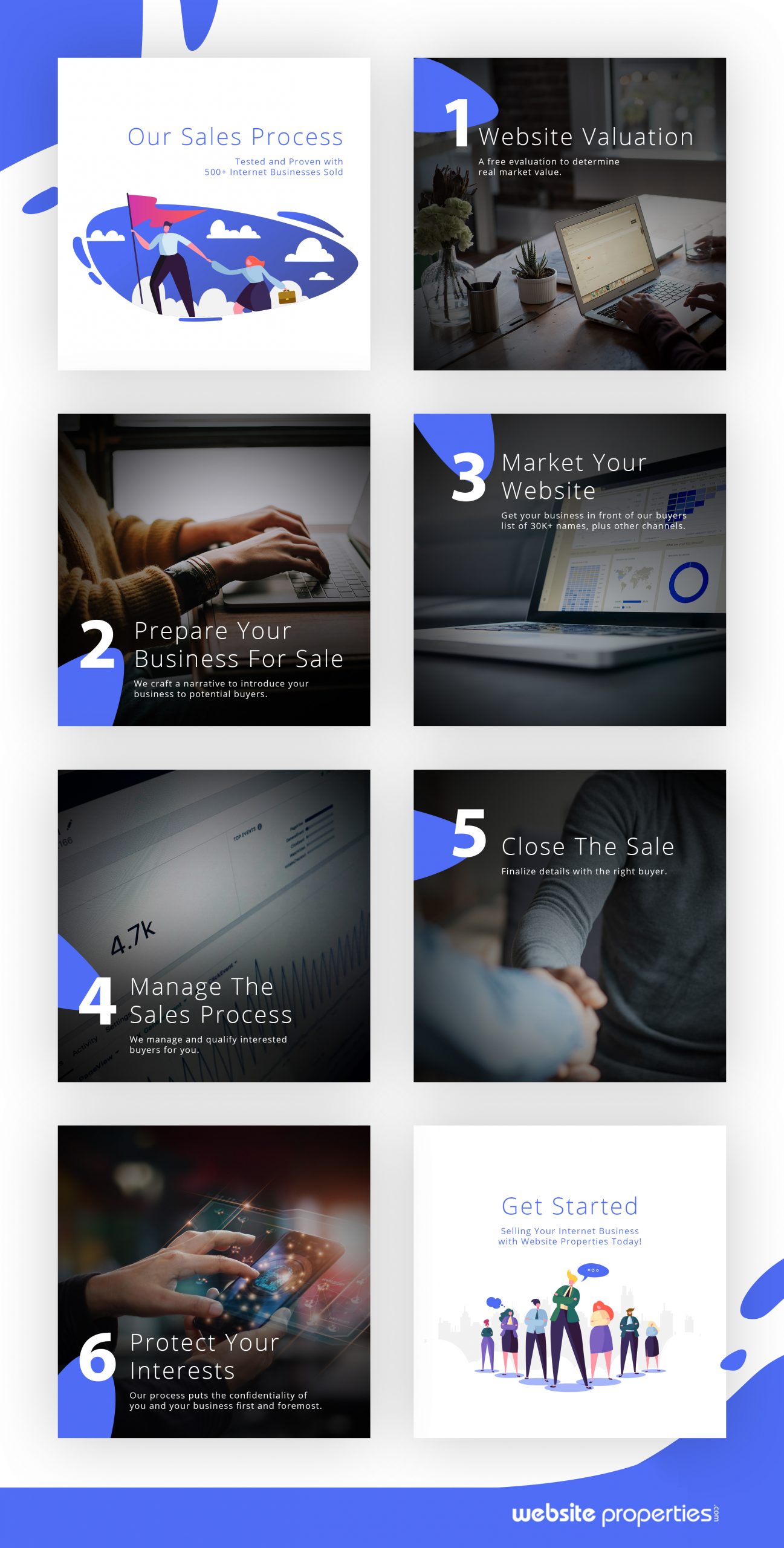 Our Process
An in-depth look at how we approach selling online businesses
Website Valuation

It all starts with a free, no-obligation website business evaluation. We'll work with you to understand your online business, its financial history, and all of its unique facets. From its domain name to website traffic, vendor relationships, and all the other intangible assets and aspects of your business, we review them all to ensure your evaluation represents the real market value of your online business.

Prepare Your Business For Sale

With the market value of the business and your goals for exiting in mind, we'll prepare your online business properties for the market with the most optimal value. No one knows your business quite like you do, so we'll work closely with you to understand all the details and formulate a professional narrative of your online business for use in introducing it to potential buyers. This business prospectus will highlight all the great features of your business and give buyers the information they need to get interested in your business fast.

Market Your Website

Once your business listing is ready, we'll take it to market. We start by connecting with our private buyers list of over 30,000 clients. This list is made up of active, sophisticated, professional buyers and generates interest in your online business almost immediately. In addition, we'll use our network of business-for-sale portals, venture capital contacts, and high net-worth individuals to further spread the word regarding your business. We'll get your online business properties "front & center" with tens of thousands of buyers in just a few days, leading to quick interest and ultimately to an offer that works for you.
Manage The Sales Process

Once in the marketplace, we'll field questions from interested parties regarding your online business property, qualify their interest, and work on your behalf to find a buyer with a deal that works for you. Throughout the process, our expert online website brokers will keep you posted on all of the serious buyer interest to ensure you are always in the driver's seat of your online business sales transaction.

Close The Sale

From Letter of Intent (LOI) through Due Diligence, right to Closing, and the signature of your Purchase Agreement, we'll be available each and every step of the way. As your transaction progresses we'll work with both parties to finalize details, plan the transition & education and work through any final issues that may arise on both sides of the deal.

Protect Your Interests

Throughout the entire process, we take every measure to protect the confidentiality of you and your business. We consider every aspect of your online business, its financial data, your customer and vendor lists, and even the fact that it is for sale, as confidential. By taking a conservative approach as to whom and how access to your company information is given, we are intent on protecting the intellectual properties of your business and ensuring your sales process is not sidetracked by the misuse of confidential information or the need for unwanted litigation.
Partners, Portals & Pageviews
In addition to sending our clients' online business for sale listings to our private distribution list of over 30,000 buyers, we also utilize a network of partner and portal sites to ensure your listing is front and center in over 50 business-for-sale sites as well as all of the top newspapers and business journal websites in the United States.
It all adds up to thousands of page views for your E-Commerce Website, Amazon FBA, SaaS, or other online business website listing, leading to quick interest and ultimately to solid offers for the exit you want.
Next Steps
With Website Properties, selling your online business doesn't have to be a challenge. With our proven sales process which gets your business in front of tens of thousands of potential qualified buyers, your transition and exit will be as smooth and seamless as possible.
In fact, your online business may already be in demand. Check out our buyer classifieds to see if there's someone out there already looking to buy an online business like yours!