What's Unique about Online Businesses?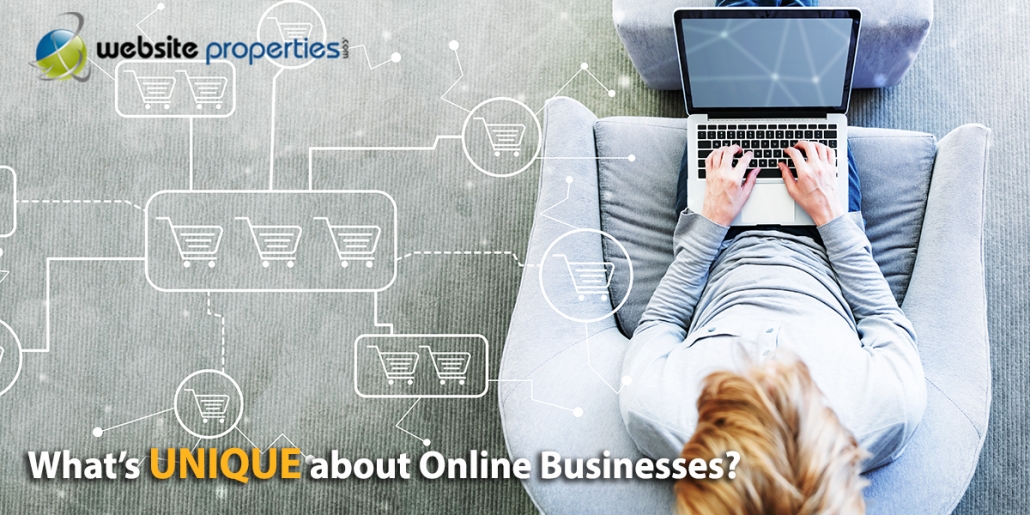 What's Unique about Online Businesses?
On the surface, online businesses seem very different from traditional "brick and mortar" businesses. However, at Website Properties, we believe they're actually very similar. Most of the considerations that apply to conventional, offline businesses also apply to online businesses, although there are a few additional steps that aspiring business owners will need to take, such as searching for websites for sale. In this guide, you'll learn more about how online and offline businesses relate to one another.
The Similarities
It is probably best to start with a discussion of how online and offline businesses are similar. Both require a business license, and chances are good that you'll need to register with your state or local government for a tax ID to charge sales tax depending on where you're located and the actual laws governing your business.
Your business will need to pay taxes on its income in some fashion, depending on how you set the company up. A sole proprietorship differs from an LLC, which differs from a C corp, but all have to pay taxes in the end. If you have in-house employees, you'll still need to pay them and overtime laws will still apply.
These are just a few examples, but you get the idea. There are plenty of similarities. However, what about the differences between an online business and the more traditional business? There are more than you might think.
Your Business Location
When building an offline business, you need to choose the right neighborhood and the right facility for your needs. When it comes to an online business, you don't need to worry so much about things like storefront size or through traffic. You do need to worry about finding the right place for your online business, which means you'll want to consider websites for sale. The right website is like your brick and mortar storefront – it is where your customers come to interact with you.
You'll need the right business name, the right domain, and more. And, while many people prefer to build from scratch, it may be a smarter idea to work with an established online business broker who is also commonly referred to as "website brokers" and can help to find an existing website for sale that already has a domain history and a book of business already established. This sort of arrangement can help you accelerate your path to profitability.
Customer Interaction
With a brick-and-mortar business, you'll interact with your customers face to face. However, that's not the case with an online business. Your customers will be limited to remote communications – email, contact forms, online chat functionality, or perhaps online video conferencing depending on how you set up your business. It is important that you go the extra mile to help ensure that your customers know how to reach you and that you understand how to communicate well through these methods. When buying your choice of websites for sale, make sure that the domain you purchase is not associated with poor communication or an otherwise now-defunct business. It can be pretty challenging to do reputation management for a pre-existing domain and that is one more reason you will want to consider using an online business broker like Website Properties during a search for your perfect online business.
Business Hours
With an online business, you're always open. Your website is always available to your customers, which means that they can place orders at any time of the day or night. It also means that they can attempt to communicate with you when it fits with their schedule. In contrast, an offline business often has set hours of operation.
While the difference in business hours means more chances for profitability, it also means more demands on your time or your employee's time. When choosing websites for sale, you'll want to make it clear to your customers when support staff will be available and how long it will take for a response to a message or question about a product or service. Make your business hours as clear as possible to ensure that your customers know what to expect.
Finding Your Products
Running an online business also changes how your customers find and interact with your products. With an offline business, a customer can step through your door and put their hands on a product. They can pick it up, handle it, get a sense of its heft and quality. They can see firsthand how it works. However, with an online business, none of that is possible.
Your customers must rely on your product images, descriptions, videos, and other content to help them understand why your product is the best one for their needs. When looking at websites for sale, take note of how those websites are presenting their services and how products are displayed.
Do you need a full eCommerce website with a massive catalog? Do you have only a few products that might benefit from individual pages of their own? How will the domain you buy relate to your products? The right website will provide you with a way to highlight your offerings and provide your customers with a friendly and easy way to explore your products.
The Trust Conundrum
If you have been paying close attention to the discussion so far, chances are good that you've realized that everything we have touched on really comes down to trust.
With a physical store, customers can speak with you in person. They can get a feel for your products. They know that your business exists and is legitimate because they're standing within your store. In short, it's easy for consumers to trust you. There are few red flags, and those that do exist are well within your control.
In contrast, an online business faces an uphill battle when it comes to consumer trust. They cannot inspect your products. They cannot speak with your employees, or at least not easily. In fact, they may not even be completely sure that your business really exists. It is all too easy to set up a fake website with faux product listings and take people's money without ever actually shipping a product to them.
When searching for websites for sale, it is crucial that you take this very seriously. When looking for domains, the history of the name and extension are vital. The length of time the domain has existed can help to increase your customers' trust in your brand. A positive history over time also helps to establish trust. Links from third party websites to a website that you purchase will also affect trust and even SEO rankings.
Any negatives that apply to an existing domain that you are thinking about buying will also apply to your brand once you make the purchase. With the inherent trust issues in the online environment, these factors could ultimately make it impossible to run a successful business.
In Conclusion
When it is all said and done, not all websites for sale are created equal. It's essential that you remember that online businesses are different from offline businesses, particularly when it comes to trust-building factors. Work with website brokers who carefully vet websites for sale for any factors that might have a negative impact after the purchase. This goes much deeper than how long the domain has existed and includes links from hard-to-find third-party sites to the domain.
Exploring websites for sale can be highly beneficial, offering an established name and the authority that you may need in the online environment. However, website brokers who do not go the distance for their customers and thoroughly investigate all aspects of the domains they sell should be avoided.
At Website Properties, we offer a wide range of websites for sale, from fully developed e-commerce websites to established domain names with little existing infrastructure. Contact Website Properties today to learn more about our inventory of websites for sale.