Leading Website Brokerage Shares "How to Sell Your Online Business"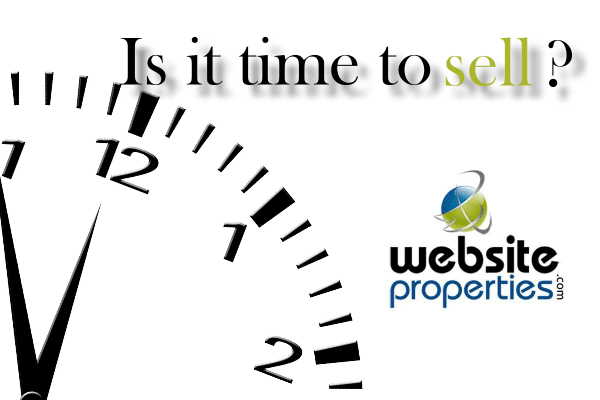 For many entrepreneurs, the end game in building their e-commerce website is the eventual sale of the business. It starts with a product idea or maybe an affinity for a marketplace platform like Amazon.com, it grows into a profitable online business through finesse and hard work and ultimately ends up leading to the question "how I sell my internet business?". For over 16 years Website Properties has been helping internet business owners answer that question and by representing them and their websites for sale.
Like most business activities, there is a well-defined path for selling your online business website, essentially a step by step guide on How to Sell Your Online Business. Each step moving you closer to the goal of closing a transaction and selling your online business website. If you like, step Zero in the process is the decision to move forward with selling your business. After that bridge is crossed, the other steps follow a logical progression towards closing the sale of your internet business for sale.
Step one of the process is deciding if you should sell your website business yourself or engage the services of a website business broker to assist in the process. Business brokers can bring a lot to the table, especially those specializing in websites for sale. Their years of experience will help you attain a quality business valuation, their marketing channels will get the word out quickly regarding your online internet business and their qualifying & negotiating skills will help make getting to an offer a much smoother process. They can also help you navigate due diligence and all the other steps to selling your internet business website.
Step two, get a business valuation to determine the market worth of your business. Your business valuation will be based on many facets of your business, some objective, others more loose or intangible. The key objective feature of your internet business for sale is its ability to make money. Buyers are interested in knowing how much money, in the form of an owner's discretionary cash flow, your business puts off during the most current 12-month period. They will also be interested in your earnings trend over the past several business years. Together these two data points give them an idea of how profitable and stable the businesses' current operations are. The more stable and safe a business looks; the more buyers are willing to pay.
In addition to the cash flow, buyers also want to know about the niche the business operates in a key vendor or market exclusives it has (brands, trademarks, exclusive sales agreements), and any other item that helps protect the business's future success. Marketplace exclusives lead to stability and improve the chances the website business will continue its current performance which in turn helps buyers to become comfortable with the business and even offer a premium for those features.
Your website broker will help put all the pieces together and come up with a market valuation for the business. While the process can never be 100% accurate, most brokers will have the experience and the current market expectations that will allow them to provide a very accurate estimate. This is an important decision point for most sellers. If the valuation matches their expectations, the decision to proceed is easy. If the valuation is less than the amount you are willing to sell your internet business for, you have a couple of choices; reset your expectations based on the market valuation or re-engage your business with an eye to improve the characteristics that increase value for your particular website for sale. The right answer very much depends on the individuals and the current state/potential of their business, there are no black and white answers. If you do decide to buckle down and refocus on the website, be honest with yourself and make sure you have the passion to make it happen. It is always better to sell a business in its growth phase than after decline has set in. If you are not sure you have what it takes to push through to the next level, selling now at a lower exit price may be a better long-term deal than continuing on, but never attaining the growth required to build to a better selling price.
Step three is preparing your business for sale. With the market value of your online website business in hand, you can now focus on creating the marketing content and data you need to present your business to prospective buyers. Here again, a website business broker can save time and effort by providing time proven formats for presenting your online business data. Quality online business brokers will create this marketing material for you as a part of their service.
This is also an important time for you to tidy up your internet business for sale in preparation for buyers reviewing and looking under the covers during due diligence. Activities to undertake include; getting all your finances in order and up to date wherever possible. Collecting all the data you will need to authenticate your business operations such as bank statements, tax returns, merchant account statements or other financial business documents. The transaction and your website for sale will likely require the transferring of key assets to the new owner, items like domain names, hosting accounts, advertising accounts and other important parts of the business. Contacting your various service providers early will help you identify potential hang-ups and work on them in advance to ensure a smooth transfer at closing. Finally, if your business holds inventory, review it now to see if there are any simple steps you can take to get your inventory into better shape like selling off dated or slow-moving items. Also remember, it's important to make sure you continue to acquire the correct inventory levels during the sales process. Nothing hampers a close like a buyer finding out they are taking over a business that is out of stock and will not be able to fulfill important product orders for 60 days due to manufacturing and shipping times from the product supplier.
Step four is marketing and starting the public process of selling your online business website. As a website business broker, we sell a lot of online business websites and accordingly over our 16 plus years in this industry we have built a private buyers list of almost 17,000 buyers. These buyers are active, sophisticated, professional buyers and sending your internet business for sale out to this group creates immediate interest. Having access to a website business broker's private contact list is another benefit of involving one in your online business sales process.
In addition to a private buyers list, your website broker will also have brokerage relationships with most, if not all the online "business for sale" portals. These websites have 1000s of business listings, many of which are either website for sale or online businesses for sale. They attract thousands of business buyers each day in search of new business opportunities. The listings on these sites can be expensive, especially if you purchase the premium ads to ensure that your internet business for sale gets the maximum exposure and can set a seller back many thousands of dollars over the time it takes to sell the business. If you have enlisted a website business broker, they will pick up these costs as part of their service.
Together, these two marketing activities will put your online business for sale "front & center" with tens of thousands of buyers, venture capital firms and high net worth individuals in just a few days. This high level of visibility for your website for sale will generate interest quickly and help lead to quality offers for your online business.
Step five in the process is to execute the sales process. Once in the marketplace, your online business website for sale will generate interest and lots of questions from buyers. If you have chosen to engage a website business broker, they will handle all the front-end legwork. They will field all the questions regarding your website for sale, qualify the buyers and their interest level and negotiate on your behalf to make a deal that works for you. Having a broker assist with this task can save you many hours answering questions and taking calls from interested parties. Good brokers are masters at quickly separating the real buyers from the tire kickers, allowing you to only spend time with the buyers that may potentially buy your online business. Throughout this process, your broker will keep you up to date on all the serious buyer interest and ensure you stay in the driver's seat of your internet business for the sale process.
The goal of the sales process is to find a buyer willing to table an offer suitable to you, the seller. The form of this offer will most often be a Letter of Intent. This is a non-binding document that allows the buyer to signify in writing what they wish to buy, how much they are willing to pay and when. If the offer is accepted both parties move on to step six, Due Diligence.
Due diligence is the last significant step in selling your online business website and is essentially the buyer's opportunity to review all the assets for sale in detail and ensure that they meet their acceptance. During this phase, the buyer will want to examine all the financial records, vendor agreements and all other assets critical to the operations of the business to ensure they matched the details shared with them during the sales process. While this process can be long and detailed it is important that the sellers stay open, organized, and willing to work with the buyer as quickly as possible. Completing this step will be the last major hurdle between them and selling their online business for sale.
In concert to working with the buyer to complete due diligence, this period is also the time to involve your attorney to complete the sales agreement for this transaction. Most websites for sale under $5 Million dollars close as an Asset Purchase, so the definitive agreement for the transaction is an Asset Purchase Agreement. As an asset purchase, the buyer is buying all the assets of the business that allows it to operate (website, marketplace accounts, vendor relationships, customer lists, brands, trademarks, etc.) but not buying the business entity itself. This form of purchase is much simpler to execute from a legal perspective and for small to mid-size online business sales, it is the preferred method.
The Asset Purchase Agreement will define all the key aspects of the sales transaction including the assets, purchase price and typical representations and warranties of this type of sale. In addition, it will also highlight the closing process and the steps to be taken to transfer the assets from the seller to the buyer. Once signed, both parties will execute the closing process on the closing date, triggering the release of funds from the buyer to the seller and completing the sale of your online business website.
Congratulations, you have sold your online internet business.
As a closing comment to the steps to sell your internet business, the topic of protecting your interest during the sales process is important to address. Throughout the process, you need to take steps to protect your confidential business information and your business. You should consider every aspect of your business, its financial data, customer lists, vendor list and even the fact you are offering your business for sale as confidential. Buyers interested in seeing your business details should all be required to complete a non-disclosure agreement before any data is released to them. This not only protects your interest from parties only looking to harvest your IP or business processes but also helps keep real buyers onside and prevents the sales process from getting sidetracked by the misuse of confidential information.
As a Website Business Broker, Website Properties has spent over 16 years creating the processes, experience and buyer networks to make selling your online business website a smooth and trouble-free process. If you are ready to sell your internet business, we would be happy to offer a free consultation and business valuation to help you start the process right.